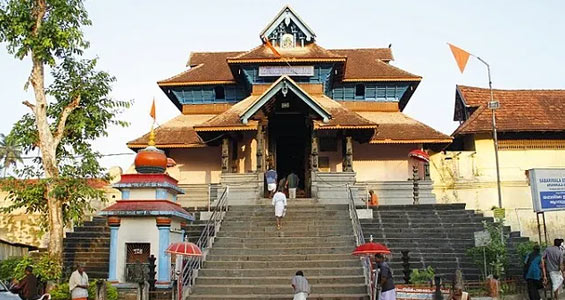 The Aranmula Parthasarathy Temple is one of the "Divya Desams", the 108 temples of Vishnu revered by the 12 poet saints, or Alwars located near Aranmula, a village in Pathanamthitta District, Kerala, South India. Constructed in the Kerala style of architecture, the temple is glorified in the Divya Prabandha, the early medieval Tamil canon of the Azhwar saints from the 6th–9th centuries AD. It is one of the 108 Divyadesam dedicated to Krishna, an avatar of Vishnu, who is worshipped as Parthasarathy.
Parthasarathy is the other name of Krishna on account of his role as Arjuna's Charioteer in the Mahabharata war. It is one of the most important Krishna temples in Kerala, the others being at Guruvayur Temple, Trichambaram Temple, Tiruvarppu and Ambalappuzha Sri Krishna Temple. It is one of the five ancient shrines in the Chengannur area of Kerala, connected with the legend of Mahabharata, where the five Pandavas are believed to have built one temple each; Thrichittatt Maha Vishnu Temple by Yudhishthira, Puliyur Mahavishnu Temple by Bheema, Aranmula by Arjuna, Thiruvanvandoor Mahavishnu Temple by Nakula and Thrikodithanam Mahavishnu Temple by Sahadeva.
The sacred jewels, called Thiruvabharanam of Ayyappan are taken in procession to Sabarimala each year from Pandalam, and Aranmula Temple is one of the stops on the way. Also, the Thanka Anki, golden attire of Ayyappa, donated by the king of Travancore, is stored here and taken to Sabarimala during the Mandala season of late December. The temple has four towers over its entrances on its outer wall. The Eastern tower is accessed through a flight of 18 steps and the Northern tower entrance flight through 57 steps leads to the Pampa River. The temples have paintings on its walls dating back to early 18 century.
The temple is open from 4 am to 11:00 am and 5 pm to 8 pm and is administered by Travancore Devaswom Board of the Government of Kerala.