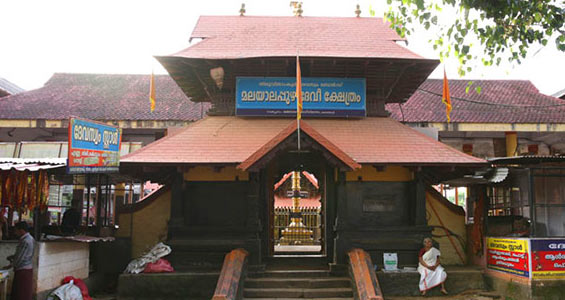 Malayalapuzha Devi Temple is situated in Malayalapuzha in Kerala. It is dedicated to Goddess Bhagavathy. This is the most popular and powerful Shakti shrine in Kerala.
The temple has a small Namaskara Mandapa, a chuttambalam and a Balikkalpura inside the temple. The temple is believed to be more than 3,000 years old. The temple is medium-sized with a majestic gopuram on the eastern entrance. The inner sanctum is rectangular with a mukhamandapam (entrance porch). The idol has been made using a technique called 'Kadu Sarkara Yogam'. Several types of wood pieces, clay, Ayurvedic herbs, milk, ghee, jaggery, turmeric, sandalwood, camphor, gold, silver, sand and natural glue are used to make it. All the parts similar to the human body are included in it.
At the time of the consecration of the image, the priests endow the figure with the power and energy by Tantric methods in a ritual called Prana Prathishta (life-giving ritual). There is a Sivalinga in the temple which is a swayambu (self-manifested) and is believed to be growing in size. There is no shrine for this linga but a flowering Konna tree (Casia fistula) provides shade to it all year round.
The main deity is Bhadra Kali Devi, the fierce warrior form of Shakthi or Parvathi but is said to be a benevolent mother to her devotees. The deity is five and a half feet high. It is made of many materials unlike other temples where the deity is usually made of stone.
Vinayaka Chathurthi, Navarathri, Sivarathri and other major festivals are celebrated in a grand manner. Tuesdays and Fridays are important days in all Devi temples. The heavy rush on those days can make you wait for darshan (viewing). The annual festival of Malayalapuzha Devi Temple starts on the day of the star Thiruvathira in Kumbham (February–March). Aarattu (dipping the deity in the temple tank or river) is performed on the eleventh day.
Offerings include Thoniyari Payasam (sweet rice), Ney Vilakku (lighting of ghee lamps), Nirapara (offering of rice, paddy and sugar to the brim of the measuring vessel called para). Ablutions are done with white ash, sandal, oil, milk, ghee and tender coconut water too.